The Search / Filter results feature offers you a handy way to go through the scan results and manage your photos more effectively. You can open the Search / Filter window by clicking on the "Search" icon in the bottom right corner of the results window.

The search tool lets you search / filter files by name, by date, by size, and by duplicate group.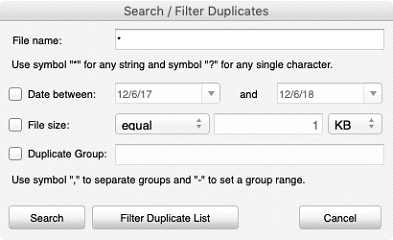 The file name field allows you to use wildcard characters where an asterisk (*) represents one or more characters and the question mark (?) represents a single character.
The asterisk in a wildcard matches any character that appears zero or more times. For example, "comp*" matches anything beginning with "comp" which means "comp," "complete," and "computer" are all matched.
The question mark stands for a single character mentioned only once. For example, "c?mp" could be either "camp" or "comp".
You can use this feature and wildcard characters to search DPC scan results quickly and effectively to find the images you need.